Under construction, October 28, 2008
Sept 27, 2005
The most INSANELY FUN road trip ever! With "Miss EX", up to the Stanley Hotel at Estes Park,
scene of Steven King's THE SHINING!
Sept 15-18, 2005
Grand tour of Wyoming ... from Laramie to Cody, Yellowstone Park and then the FOC/Utah rally in Jackson Hole!
July 30, 2005
Bikini Car Wash in Ft Collins!
July 29, 2005
The 550 gets new wheels from HRE Performance Wheels!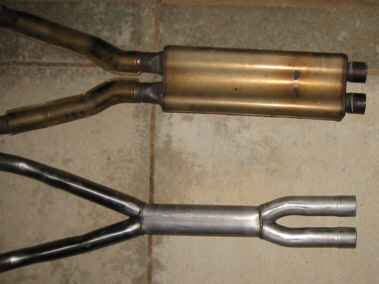 June 25, 2005
Installation of new Stebro center exhaust pipe, which makes the 550 run like it's 2,000 feet lower in altitude...with F1 attitude and NONE of the Tubi exhaust's crass rattle! Sweet!
On top of the picture link is the 550's OEM center pipe with resonator. On bottom, 40 pounds lighter and 12 brake horsepower better... Link to Stebro web site.
CLICK HERE TO HEAR THE NEW EXHAUST! (Stebro center pipe and Quicksilver mufflers)!
June 5, 2005
Participated in a 300-car fundraiser for Cerebral Palsy in Denver and helped raise $76,000! On the way home, I was stalked by a psycho from Gillette, Wyo and then got my first speeding ticket in seven years, outside Laramie, thanks to a Wyo HP who was stalking me in the passing lane of I-80-- without passing me. More proof that no good deed shall go unpunished!
April 29, 2005
The Highway Patrol cop says, "You're no different than a Toyota! Get a front plate on that car!"
===============================================================
Back to CAR homepage
(this car's adventures, movies, etc)
Back to Wyo550 Home Page (the driver, this car and others