Wyo 550 is a 1997 Ferrari 550 Maranello!
"550" is for engine displacement: 5.50 liters (about 340cubic inches)
"Maranello", Italy, manufacturing home of Ferrari
This car's serial number is 172678


and within the factory, assembly # 26178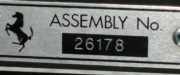 This stunning, first year example of Ferrari's worldwide production run of about 3,700 Maranello Berlinettas (front engined coupes) is finished in the color, "Giallo Modena" or Modena Yellow-- not "Fly Yellow".

Yellow is the official color of Modena, ("MODE-na") Enzo Ferrari's birthplace in northern Italy. And this is why Giallo Modena is also the background color of the Ferrari Scuderia shield.

The mistaken notion that a "real Ferrari" is red is based on that body color being assigned to Italian automobile racing teams for the past 80-some years.
So, the most historic color for a "real Ferrari" is actually Modena Yellow.

And baby, this Great Yellow Shark in an Armani suit can't be confused with any other manufacturer's little red sporty cars!
Here she is, alongside the Hoback River in northwestern Wyoming, about 40 miles south of Jackson Hole in September, 2004.


In October 1998, an intelligently-modified 550 set world speed records for sustained, high-speed driving in a production car: Posting 182 mph average over 100 miles, 100 kilometres and in one hour. The site of that record was the 12km oval at the Transportation Research Center (aka Marysville) outside Columbus, Ohio.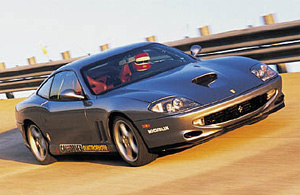 As described by Ferrari, "The 550 used was equipped with the Carozzeria Scaglietti sports kit, stiffer shock absorbers, helicoidal springs, modified steering, an infra-red tyre temperature control system, a special OMP roll cage, sports seats with four point harnesses, an automatic fire extinguisher, rapid refuelling system and an additional electronic pump in the event of failure of the power steering or brake servo. To celebrate, 33 commemorative replicas were built between 1999 and 2000, these World Speed Record editions having been the hottest front-engined cars you could buy from the factory."
======================
Back to Wyo550.com home page (DRIVER, FERRARI, PORSCHE, etc)