Proposed article for PILOTA magazine:
"Accidents will happen... when they're driven."

By John Guthrie
Ferraris should be driven hard- never spared. My 1997 550 had 11,000 miles on it when I bought it, seven years old. Maintenance, the first year of driving, was $1/mile because the car had possibly not even been warmed up properly on outings to "the club." One cat converter failed under warranty. There are now 64,000 miles on the car. I average 8,000 miles a year. Next trip is to Pebble Beach in August, where the car will be shown at Concorso Italiano. I can't wait to fly over the Sierras in fifth gear. This V12 dream will do 140 up a 7percent grade, 195 up a 3% (but not outside Wyoming for some reason).
This past March 10th- a month earlier than my usual "first spring outing"- a lovely day beckoned me out of Laramie. The 550 powered-up a melting wet mountain road at 9,000 feet like the 530hp champ it is (with prototype tuned exhaust performance described in PILOTA, August, 2009). On the way up the road, I took note of the possible dangers.
Nonetheless, coming down, I hit a wet patch that was probably freezing... got oversteer to the right... then oversteer to the left. No recovery on cold tires and dirty road. I smashed the right side into the heap of snow and ice that had been plowed. Fortunately, the impact threw the car around so it was again facing downhill.
Afterwards, the engine was dead and I rolled down the road a couple blocks to get to a pullout. There, I inflated the right front tire, restarted the engine and limped back into town with a bent lower control arm on the right front suspension.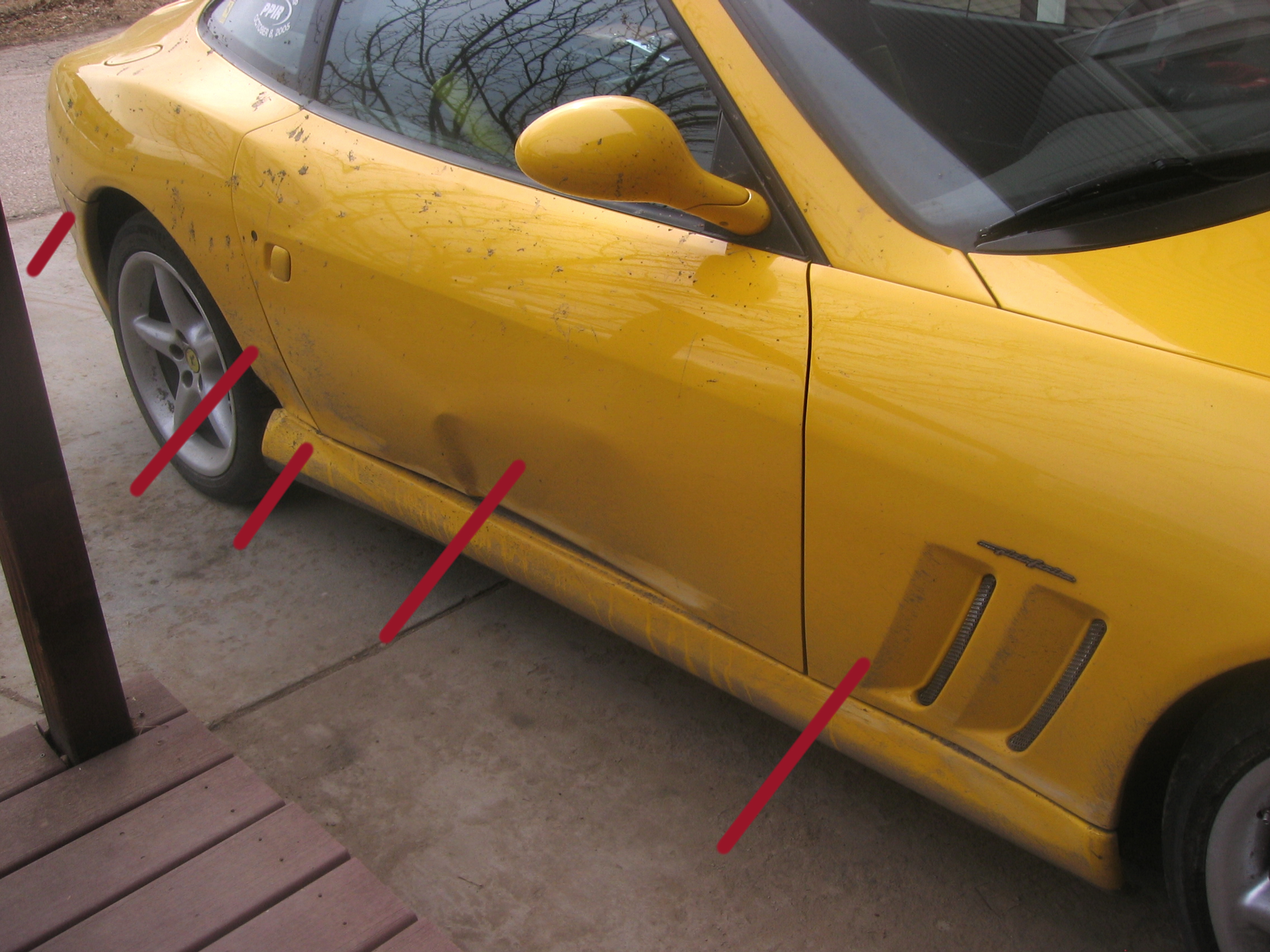 The next day, damage was apparent to the entire right side, right front suspension and both bumpers. The best body shop in Laramie just shook their heads, "no way" at the aluminum bodywork. So, Ferrari of Denver came to the rescue, literally, and trailer-ed the car to Global Collision company in Denver. There, Jake, Rob and Mike worked with my insurance carrier, State Farm, on the estimate- first confirming that the car wasn't "totaled." To their credit as an ethical business, Global chose to repair the cracked bumpers- not replace them for $10,000.

A new door from Maranello was ordered and arrived... too big? No, that's the way body components for Ferraris are all manufactured, too big: so they can be hand-shaved to precise tolerances. The door was hung on the hinges and the precise gap with the previously repaired rear quarter panel and lower rocker panel was achieved.
This hand-crafted repair by Global was worth $100/hour, yet the company worked out a "standard labor rate" with State Farm (like the repair was for a pickup). I worry that, in the future, a tough economy and this insurance industry negotiations on labor rates will force superb "factory quality" repair of exotics to be a thing of the past.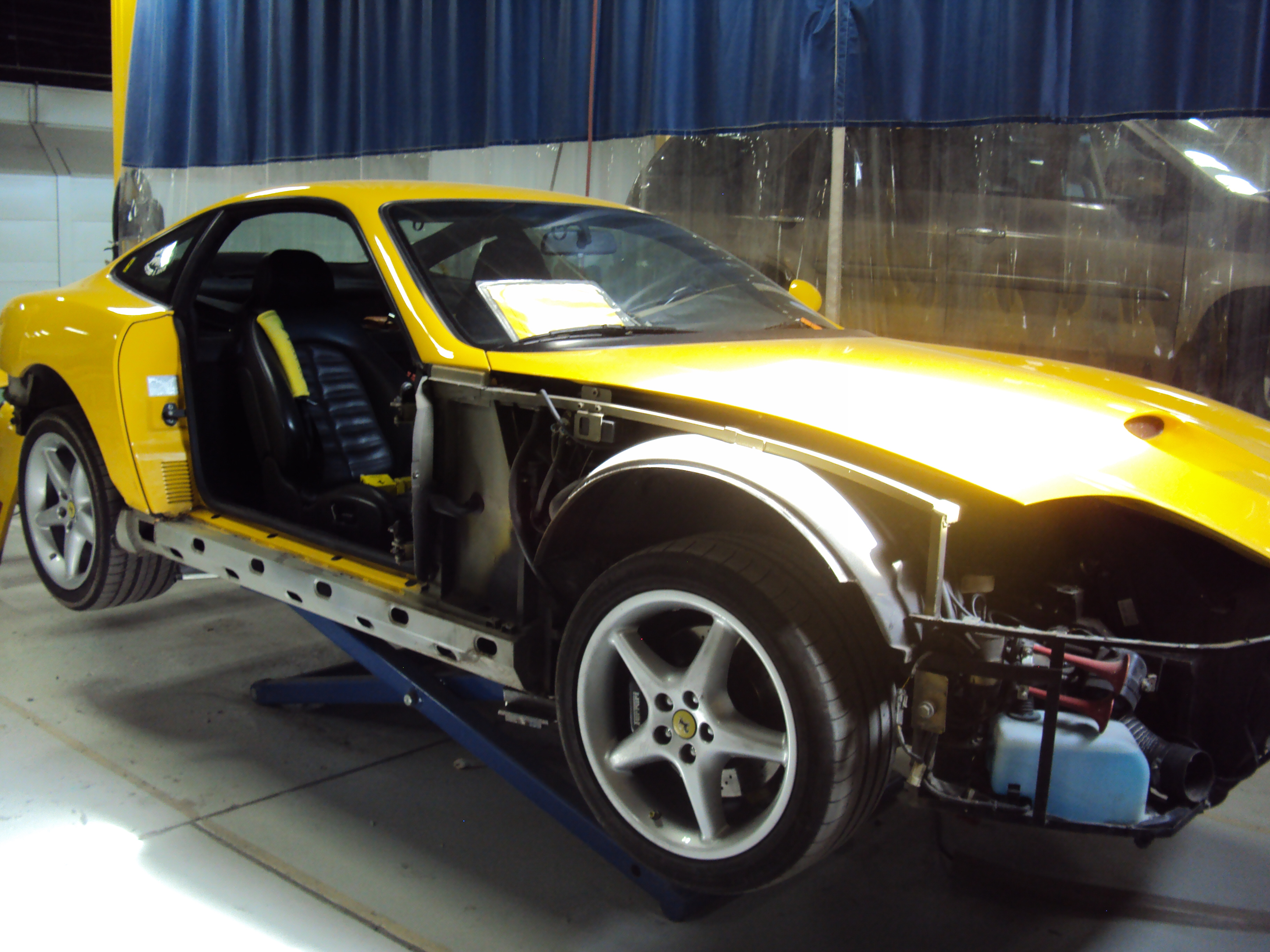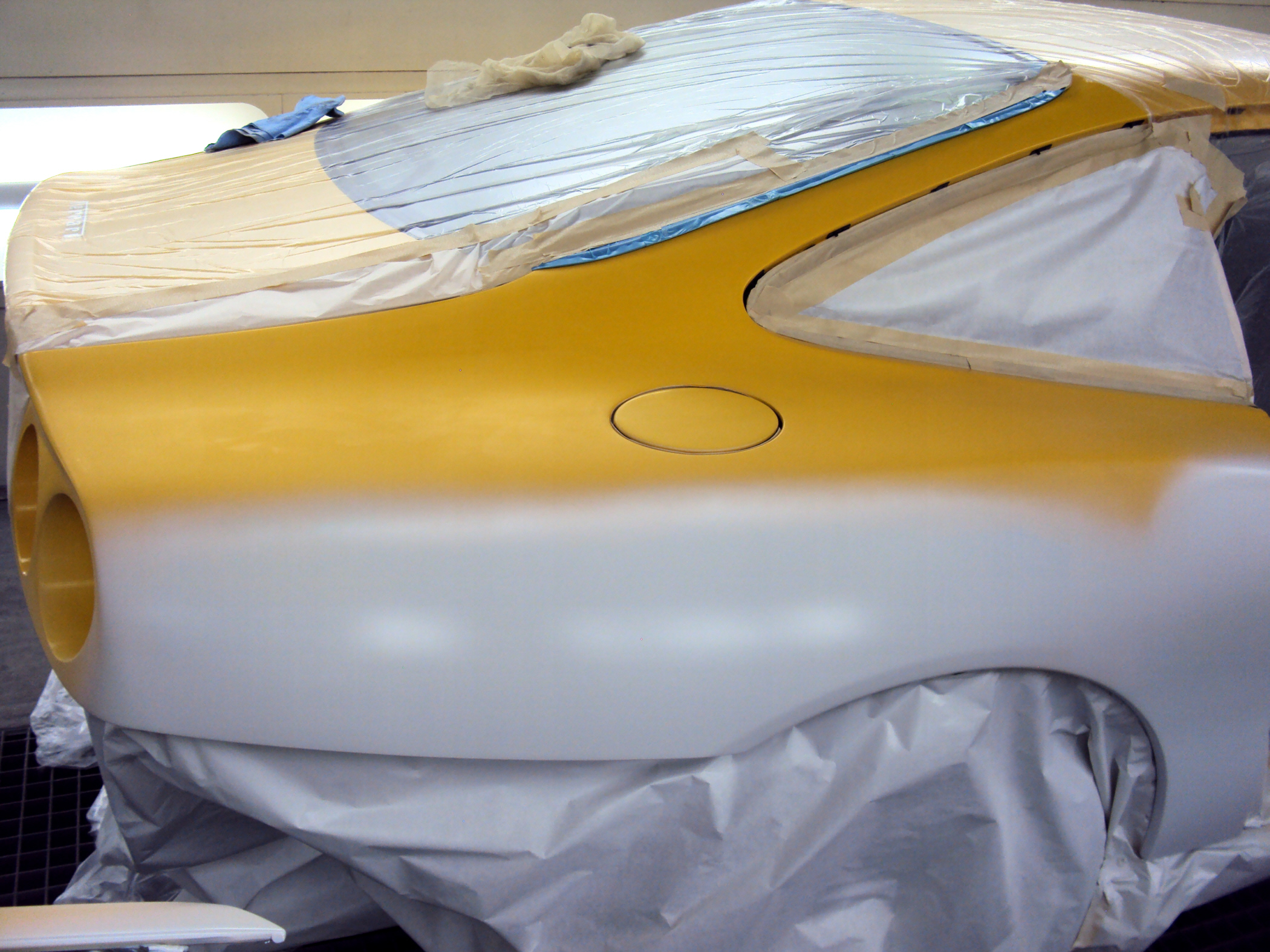 For me, having a $250 deductable and $400/six month premium on a Ferrari insurance policy (that can't be canceled- unless my license is lifted- with no premium increases for any speeding) is almost as cool as a factory-fresh 550 Maranello from Global and Ferrari of Denver!
See you at Concorso Italiano, August 17. Look for the Wyoming bucking horse plates! Video of the crash is online at Wyo550.com. :-)
Copyright, 2012, John Guthrie, all rights reserved